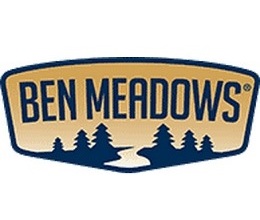 Ben Meadows is now Forestry Suppliers
We are pleased to announce that in late August, 2018, the Ben Meadows Company was purchased by Forestry Suppliers, Inc.
Ben Meadows and Forestry Suppliers have been friendly competitors since the mid-1950s. In fact, Ben Meadows actually began his career at Forestry Suppliers in 1952 before branching out on his own.
Our top priority is maintaining the values shared by Forestry Suppliers and Ben Meadows, like a large selection of quality products, fair pricing, fast shipping, repairs, generous exchange policies, and free product support to name just a few.
Forestry Suppliers is a privately-held, family-owned company that is committed to treating our customers the same way we like to be treated. We welcome the opportunity to serve you!
What does this mean for me?
Will you continue to honor my Ben's Shipping Deal membership? At this point, all Ben's Shipping Deal memberships have expired. Forestry Suppliers did honor unexpired Ben's Shipping Deal memberships after purchasing the Ben Meadows Company. Now, Forestry Suppliers has our own MemberShip Plus program that customers can take advantage of to get free shipping on most orders.
Are Ben Meadows promotions still active? All Ben Meadows promotions from 2018 have expired. We encourage you to sign up for a Forestry Suppliers online account if you haven't already done so, and be sure to opt in to our Forestry Rewards program to earn special discounts and more.
Do you carry all of the Ben Meadows products? While we may not have every single product, we do have most of them. To streamline this transition, we have worked to make this change as seamless as possible for you. When you search for an item, you may use either a Ben Meadows stock number or a Forestry Suppliers stock number, and the Product page will display both numbers for reference. Our Customer Service department has the same ability for phone orders. In the event we do not have a product that is an exact match, we will refer you to a product that has been determined to be a close match. Contact our Customer Service department at 800-752-8460 for more information. There will be some instances where we do not have a product to offer. In these cases, contact our Product Support team at 800-430-5566 for help.
What if I need warranty work? We are glad to help with warranty work for any qualified product that you bought from Ben Meadows. We can access your order history to confirm the warranty work to proceed. Contact our Customer Service department at 800-752-8460 for details.
Can I use my Ben Meadows login on your website? Yes. Provided your email address matches the address you used to access your account on the Ben Meadows website, you will be prompted to reset your password (for your security, we do not record passwords). Once your password is reset, you will have login access to the Forestry Suppliers website.
I have ordered from both Forestry Suppliers and Ben Meadows. Which login should I use? You should continue using your Forestry Suppliers login.
Can I use Net 30 payment terms? Yes. Simply make the request at the time you order. If you had Net 30 terms with Ben Meadows and maintained a good payment history, we will likely be able to extend terms to you.
Do you have my order history? Yes. Our Customer Service staff can access your history should you need it. Please contact our Customer Service department at 800-752-8460 for help.
Will there be a sales tax on my order? On all orders, all applicable taxes will be applied. If you are in the state of Mississippi, you will be charged sales tax. Those outside the state of Mississippi will not be charged sales tax currently. Government entities and tax-exempt organizations will not be charged a sales tax.
I had contract pricing in place with Ben Meadows. Is this still in place? Yes. If you have any such arrangement, your account has been noted for referral to our Bid and Contract department. If you place an order over the phone or on the Forestry Suppliers website, you will be forwarded to the Bid and Contract department. For more information or to speak with them directly, contact our Bid and Contract department at 800-752-8461.
What is my Forestry Suppliers account number? Every mailing that you receive from Forestry Suppliers will include your account number printed above your name and address, and will start with a C or P. You can use this number when you order with us over the phone. Contact our Customer Service department at 800-752-8460 for more information.