Onset Barometric Pressure Smart Sensor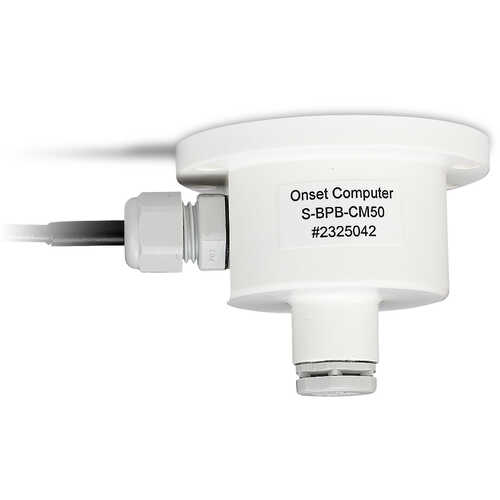 Stock No.:

89317
UNSPSC: 41114410
MPN: S-BPB-CM50

Availability:
Pre-order (Ships in 1-2 weeks)
Measures barometric pressure over a wide range and utilizes measurement averaging to obtain the highest accuracy. The weatherproof housing allows for mounting outside the station enclosure. The station maintains its weatherproof seal without having to be vented to the atmosphere. Includes zip ties for mounting on a mast. Can also be mounted on a flat surface using screws. Specifications: Range: 660 mbar to 1,070 mbar (19.47 in. Hg to 31.55 in. Hg). Accuracy: ±3.0 mbar (0.088 in. Hg) over full pressure range at 25°C (77°F); maximum error of ±5.0 mbar (0.148 in. Hg) over -40°C to 70°C (-40°F to 158°F). Resolution: 0.1 mbar (.003 in. Hg). Drift: 1.0 mbar (0.03 in. Hg) per year. Dimensions: 2.5" diameter x 2"H.
Product Notes:
Download additional product info, including MSDS safety sheets, manuals, and more.

User Manual
Other Parts